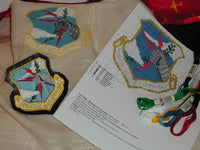 Welcome!
Click on the catalog link from the menu above to find your branch. Better yet, use the awesome magnifying glass to search!
Take advantage of a 10 % discount when you buy 3 or more items. Use QTY3 as discount code at checkout!
List of New Patterns
USMA 1997 * USMA 2022
USMA 2024 * USNA 2023
USAFA 2022 * NAS Fallon
Army Logo-retired
MC 1st Supply Bn
NAWDC * AF Spouse
USS Mississippi CGN 40
We have also added a collection of patterns to our Catalog that can be used for Latch Hook. For something a little different, make a Rug, Wall hanging or pillow!
Copyright
All patterns have been adapted to cross stitch by Sherry Harysch, Kaitlyn Harysch or Evelyn Staley.
DISCLAIMER: None of the components of the Department of Defense have approved, endorsed or authorized products on these pages, unless otherwise noted.